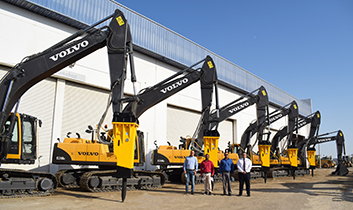 Arabian Agencies Company is proud to announce a massive coup as they sold 10 Volvo EC210B Excavators to their key client, a specialist on earthmoving works and infrastructure projects.
Obviously, this client is keen to deal with companies that exhibit the same versatility and reliability that puts them at the heart of construction and many other essential developments within the country.
As the authorized dealer of Volvo Construction Equipment, Arabian Agencies Company is the go-to company for heavy equipment. This is not surprise as since ARACO was established, the management and employees have honed procedures.They offer outstanding personal commitment where nothing is too much trouble. Their aim has been to offer the highest level of professionalism and services to every client. Not only this, but the brief has also included looking after the well-being of everyone associated in the company.
Safety, Fuel-efficiency, Comfort and Durability are the business' core objectives. By combining the best possible service and providing innovation for all the client's business needs they are on to a winner. ARACO believes that whether you are searching for earth moving or construction applications, Volvo is the most appropriate answer in today's market. 
Aimed squarely at one of the most competitive segments of the construction market, Volvo Excavator is the perfect partner for a wide range of medium-duty application. Ideal for in-house operations or as part of a rental fleet, suitable for construction utilities, road infrastructure and more, it provides superior performance with excellent value, ensuring high customer profitability.
Arabian Agencies Company upholds an unwavering reputation for excellent know-how, high quality of work, excellent safety standards and records as well as timely delivery in all its areas of expertise.
We are delighted that one of the prominent companies in Qatar has put its faith on us and we will continue to offer possible solutions to heightened customer satisfaction where dealer standards are not at stake," said Amro Elrefaei, Sales Manager of ARACO.
"Arabian Agencies Company as part of Alfardan Automotive Group, harnessed policies and procedures in line with the group's strategy. Conforming with the country's 2030 vision, ARACO has been providing sustainable products and services to tailor solutions for client's operation with one simple objective, which is to help our client achieve their desired profitability. ARACO has been serving clients for almost 20 years, not to brag, but we have a lavishly-built facility, where we can cater our client's needs from A to Z," Walid Dowidar, General Manager of ARACO concluded.