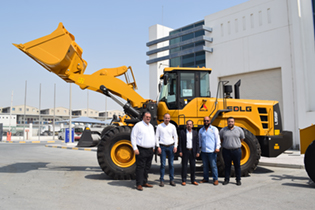 Following the successful deal of SDLG Heavy Equipment, a member of Volvo Construction Group, Arabian Agencies Company sold SDLG Wheel Loaders and Motor Grader to one of of the key clients.
This client bought previously a Volvo Construction Equipment and then later added an SDLG Wheel Loader L958F and SDLG Motor Grader G9220. Satisfied with the services and support that they have received from ARACO, they undoubtedly grab these machines and deployed them to their construction site.
SDLG Wheel Loader L958F comes with a modern design and many improvements, for a machine that really delivers. High breakout force, a rated load of 5,400 kg and with its 3.2 m³ bucket, this loader is engineered for high productivity and will give you an excellent return on your investment.  All SDLG wheeled loaders are rigorously tested to ensure reliability in action.   
SDLG L958F is the long wheelbase, energy-saving and high-end loader launched by SDLG, which has brand new appearance, high-end configuration, good stability and strong durability. This product has large breakout force and tipping load, featuring good stability, which is widely used in mining, heavy-load spading, stripping of original soil and other heavy-load conditions.
While the SDLG Motor Grader G9220, is a well-balanced earth moving equipment with good traction and excellent blade down force. The 146 kW engine, in combination with the power shift transmission delivers easy and reliable operation. The cab offers impressive visibility, and a comfortable and quiet working space. Its Machine Blade Control System (MBCS) is controlled by hydraulic mechanical levers in the cab.      
The Motor Grader is a truly versatile machine for all grading applications, whether new construction or maintenance, ditching and slope scraping, pavement levelling or site preparation.       
The purchase of these machines has already an effect on the company's bottom line, as the SDLG machines were priced lower than the premium machines and also run at a lower operating cost than competitor's machine.
"We have a very good experience with ARACO, they have a dependable and reliable aftersales support. In fact, they have given a free operator training to our staff, which is very integral in our daily operation", added by Mr. Esam AlAbed, key client's representative.
"ARACO always thinks of new innovations on how to attract customers, in this changing market situation, we have to be very versatile when it comes to customer's needs. Our products, services and support are tailored on every client's need. And our team is very responsive to offer them whatever support ARACO can offer", said Walid Dowidar, GM of ARACO.